How to send multiple emails to multiple recipients?
Q 1 . How to Activate Application to Remove Demo Message from Email?
Register : To register the "Advance Bulk Mailer" click on the "Enter Activation Key" Button and fill the Registration Detail with the Activation Key.
Buy : You have to Buy "Advance Bulk Mailer" to get Activation Key . You Can Buy it From our Site by Clicking on "Buy Activation Key" button..
Continue Trial : You can use Trial version of "Advance Bulk Mailer" by clicking on "Continue in Demo Version" Button.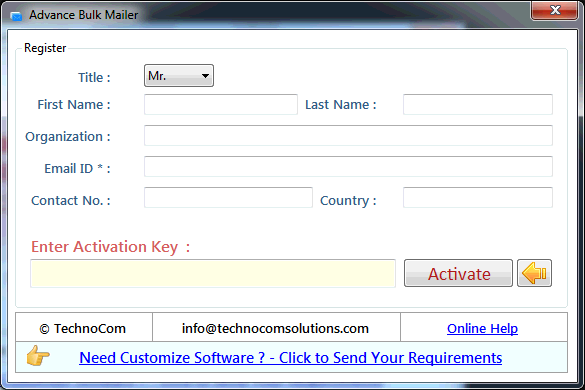 Q 2 . How to Create Sender (SMTP) Account?
Note:
Set
Gmail
setting before adding account to get best result.
Click here
In First Step, Advance Bulk Mailer needs Email Account of any SMTP Service Provider like Gmail, Yahoo, Hotmail, Aol etc to Send Emails. You have to follow some basic steps to create Sender Account. Open Advance Email Sender and click on sender account.
First you have to choose SMTP Service Provider like Gmail, Yahoo, Hotmail, Aol etc and then fill account information. You can Test Connection by click on Test Connection button. If connection successfully established save your account.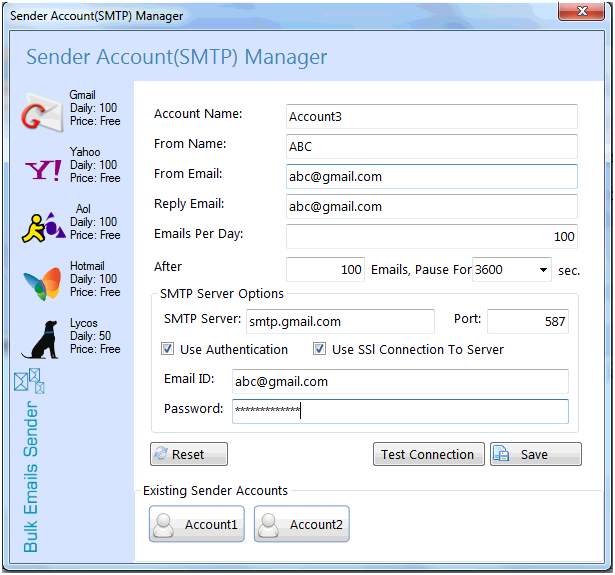 Q.3. How to Create Account (SMTP) Group?
In Second Step. If you want to send mail from multiple accounts Click on 'Account Group' button to create group of multiple SMTP accounts. Add available account in account group and save your account group.
Q.4. How to Create Recipient Group?
In Third Step. Click on 'Recipient Group' button to create email list of recipients whom you want to send emails. You can create many Recipient Groups.
You can create new recipient group, edit in existing group and can delete existing group. When you creating new recipient group click on new button.
After clicked on new button new Form will open.
You can Import recipient list from Excel (.xls), TEXT (.txt), CSV (.csv) file and can add manually. After importing recipient list or adding you have to choose Email Field and your group name.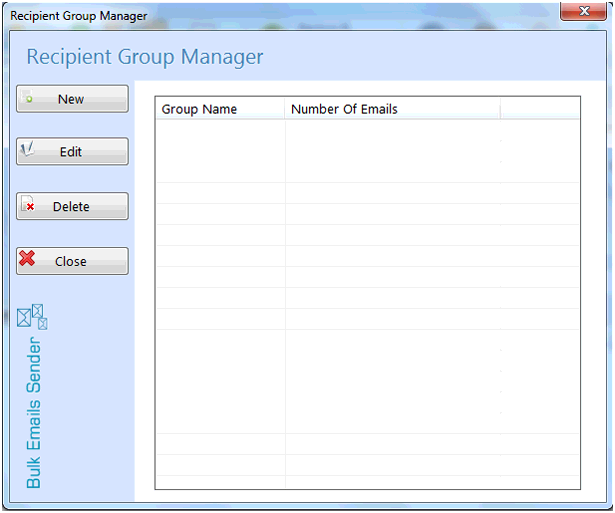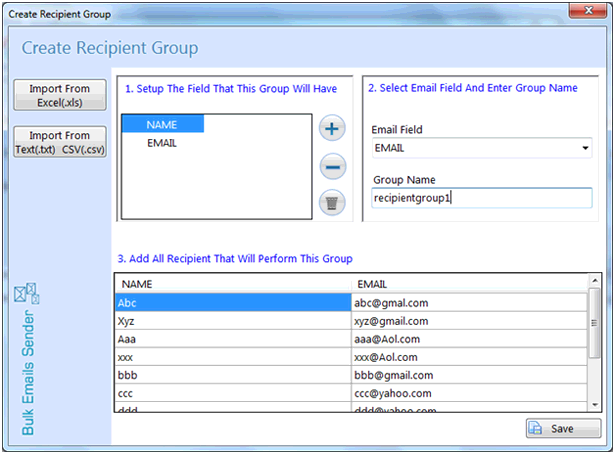 Q.5. How to Select or choose Email Templates?
You can choose email templates for your Email Message. You can also editing in email templates before sending emails.
For use Email Templates click on Email Templates. You can use different templates by drop down list and click on use button. Template will be loaded to your email message body.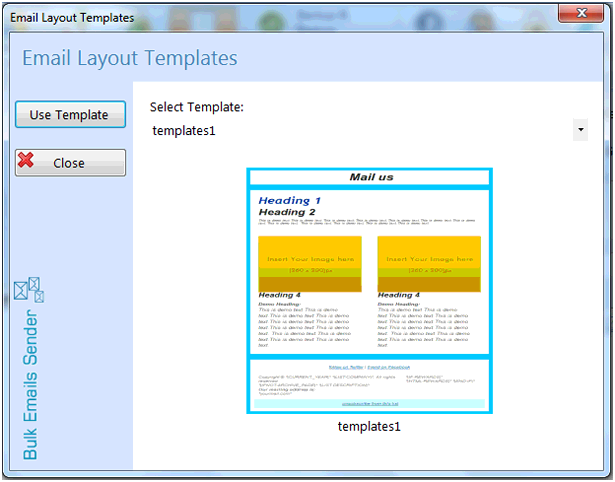 Q.6. How to Personalized the mail?
You can compose and send personalized Email means different Email to Every recipient id imported from file.
You can personalized you mail by click on personalized Email and select field.
Q.7. How to Send Email?
After composing your mail you can send email by click on send email button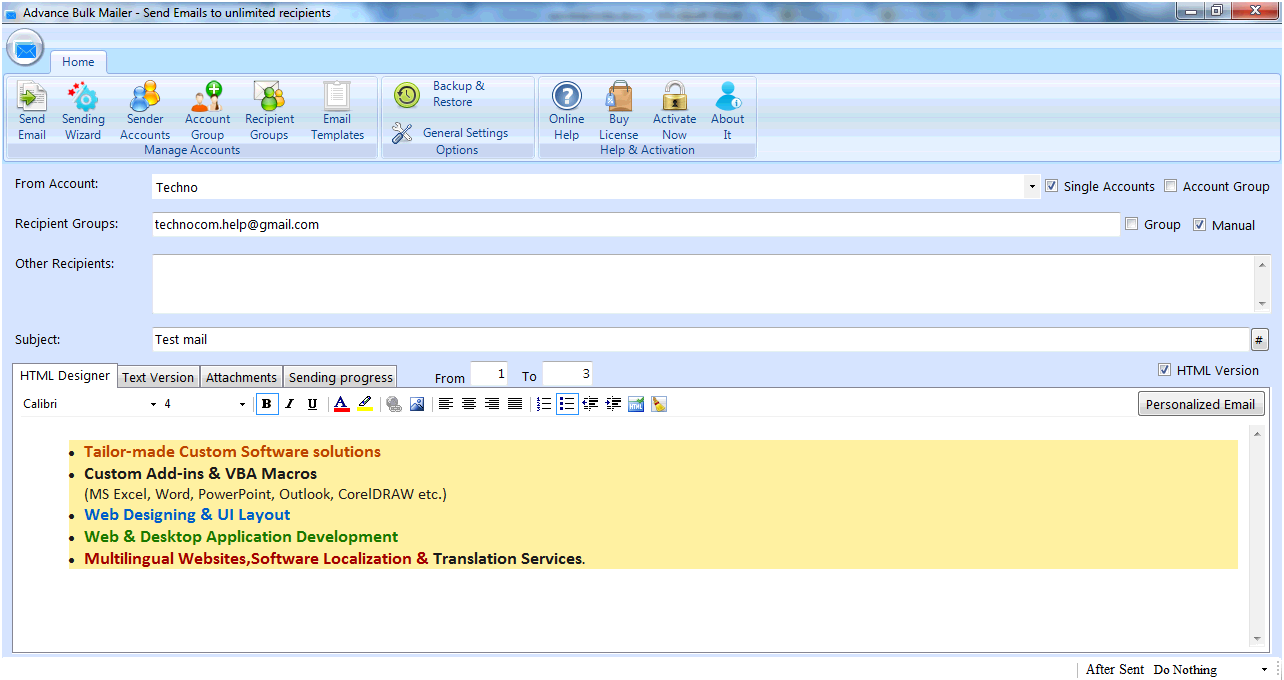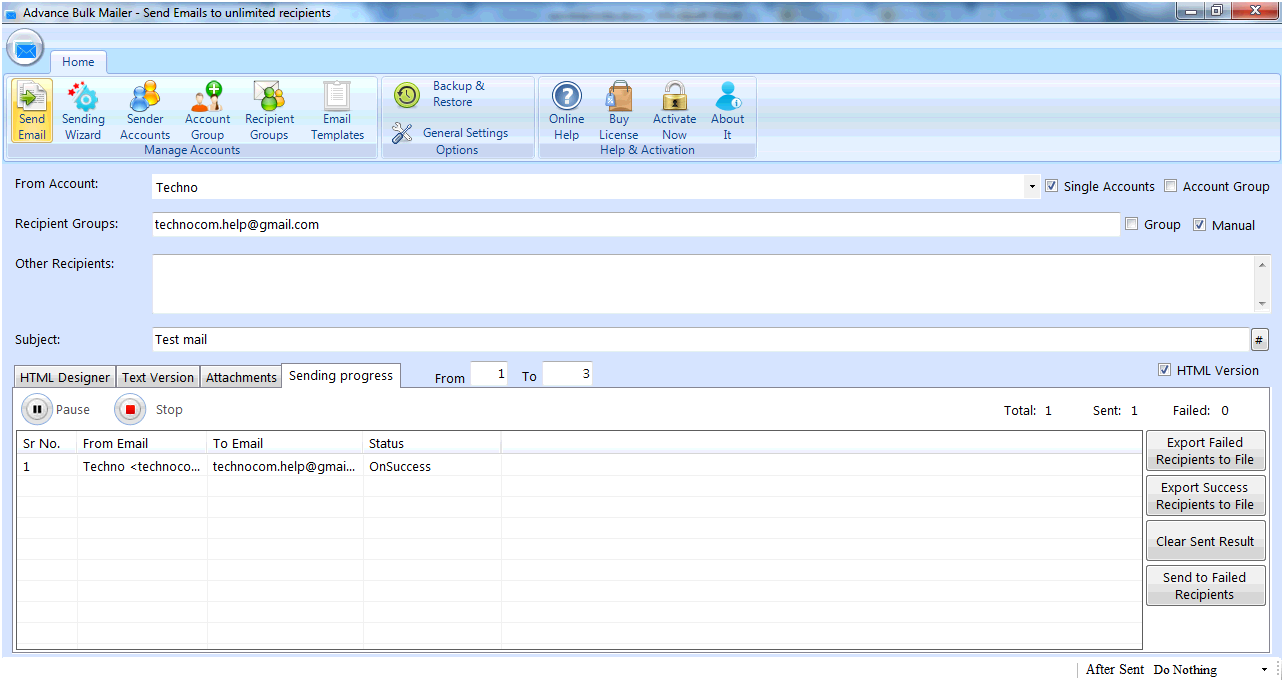 Q.8. How to Backup and Restore your data?
You can take Backup and Restore your data storage.
For backup and restore click on backup and restore button.
If you want backup of your data click on backup and give the location of backup.
If you want restore your data click on restore button and give the file to restore.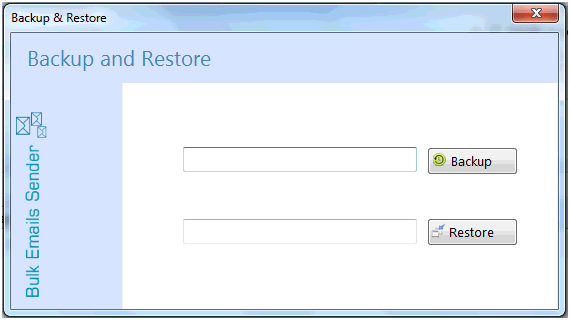 Q.9. How to change General Settings?
In Setting you can enable or disable to save your logs. For see logs click on logs button.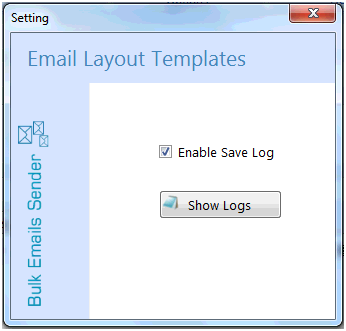 Q.10. How to Deactivate or Transfer License to Another PC?
Step-1 : Click on top menu Bar. Click on Deactivate Option.
Step-2 : Click on "Yes" Button and in last.
Step-3 : Click on "Ok" Button.
Step-4 : Install the software on new PC and Register it with same Activation Key.